When it comes to gaining access to affordable luxury watches nobody understands this concept better than Eleven James. Seriously, when the subscription rental service for luxury watches launched in 2013 few thought they would still be around today. However, when Eleven James actually went officially live in early 2014, the concept quickly became a big hit among luxury watch collectors. A solution to maybe try before you buy or just experience the luxury watch brand.
photo credit Eleven James
The goal of Eleven James was to totally disrupt the traditional timepiece industry space when it came to the experience for ownership of luxury watches. Already in their fifth quarter of operation Eleven James is likely going to be around beyond what anyone ever expected.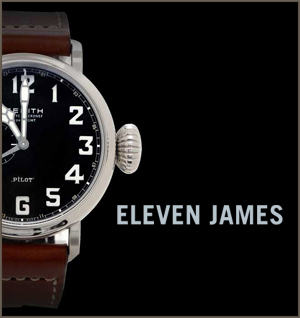 photo credit Eleven James
Users sign up for one of their varied service tiers which similar to disc rental plans from Netflix. Meeting an opening to access affordable luxury watches through a rental position. With Eleven James a certain amount of money each month will allow members to receive a certain amount of watches. An in-rotation option of various prices points. When members decide to increase their budgets they receive access to borrow watches at any given time upgrading their exclusive access to more luxury watches.
Eleven James members can borrow luxury watches fairly simple. It's a great service and we will have to give this concept an B- for now because it's indeed a need for the service and we want to see how they keep up with inventory before we stamp an A+ just yet. If they gain an selective inventory of Apple Watches they could explode in popularity.
This brand is certainly one to watch.