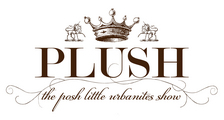 Kids luxury is on the rise and we can expect to see more luxury baby events too. The new theme is adding celebrities to gather exposure and brand awareness. Looks like it is working and the biggest luxury baby and toddler event is headed to SoCal in June! The first annual PLUSH Show will present all things Posh for babies and toddlers a new HOT target market for luxury brands.
On June 5, 2011, at the Vibiana in Downtown Los Angeles, more than 600 parents will attend the first annual PLUSH Show. A premier luxury baby and toddler event, the PLUSH show will bring today's trendiest and most luxurious baby retailers, service providers, party planners, entertainers, and industry professionals together for this incredible one-day event. Jason Kennedy and Catt Sadler of E! News will be hosting the show and PetitNest founders, Tiffani Thiessen of "White Collar" and Lonni Paul of HGTV's "Design Star" will be onsite to talk about their new children's furniture and bedding collection. "Modern, style-conscious parents are always looking to find the newest and best products for their families and PLUSH is the perfect answer," says PLUSH founder, Jina Park. "Parents will be able to shop for deals on the best brands, meet with the industry's top party planners, family and maternity photographers, and speak with trusted baby professionals from nursery designers to doulas." Currently, more than 40 high-profile exhibitors will be on hand for the event, including:
PetitNest
ERGObaby
Pump Station
Montessori Children's World
Hansen's Cakes
Layla Grayce
Lucky Jade
Westside Nannies
Manny & Simon
Sadie James Photography
Little Crown Interiors
Oopsy Daisy
The Bump
Storksak
Happy Family
GreenBliss EcoSpa
Tiffani Thiessen, cofounder of PetitNest, says, "I wanted to be a part of this event because, as a new mom, I can relate to parents who are always looking to find the next great thing for their children. This event is offering parents the opportunity to discover everything they have been searching for in one place, whether that means eco-friendly baby furniture, stylish children's clothing, or organic baby food." In addition, Councilwoman Jan Perry will be on hand to provide a Certificate of Recognition to Jina Park for her efforts on The PLUSH Show. The PLUSH Show will also feature exciting experiences for everyone to enjoy, including massages and mini-facials for parents, as well as manicures and pedicures for mommies and their little ones. Pump Station will be hosting a special nursing lounge for new mothers and CleanBeeBaby is doing VIP stroller cleaning. Oopsy Daisy's Night Light Art Studio will be onsite to provide entertainment for parents and their toddlers. Additionally, all guests will be invited to sample desserts, food, and drinks, and everyone who attends will have the chance to enter to win luxury giveaways! The PLUSH Show is donating 10% of all ticket sales to Generosity Water (http://generositywater.org/) — an organization dedicated to ending the clean water crisis in developing countries, one community at a time. Tickets are on sale now at http://plushshow.eventbrite.com/. To purchase tickets, consumers can go to http://plushshow.eventbrite.com/. For more information, please email info@plushshow.com or visit www.plushshow.com. Special Thanks to Event Sponsors: Layla Grayce, Oopsy Daisy, Project Nursery, ERGOBaby, The Bump, LA Weekly, OC Weekly, KIWI Magazine, CityMommy, Westlake Malibu Lifestyles Magazine, The Sanctuary Birth and Family Wellness Center, Sweets Indeed, Honda and Volvo. About The PLUSH Show PLUSH is an exclusive show that is full of luxe, trendsetting and sought-after products and services. PLUSH was started to provide a venue where posh parents could find the types of products and services to get the job done with a sense of style and swagger. PLUSH knows that every parent wants the best for their children, so PLUSH targets the best for the best.